Access Doors - Fire Rated Series - Stainless Steel
Suited for new or remodel installations, in masonry, tile, wood, or other wall surfaces. Fabricated from 16 gauge steel.
Fire rated by Underwriters Laboratories Inc., for 1 1/2 hours, "B" label, and meets ANSI-UL 10B. Door equipped with heavy duty spring closer.
Features:
DOOR Fire rated by Underwriters Laboratories Inc., for 1 1/2 hours, "B" label, and meets ANSI-UL 10B. Door equipped with heavy duty spring closer.
DOOR & FRAME Fabricated from 16 gauge, galvanized steel with prime coat finish.
FRAME: Has either masonry anchor or bolt holes to facilitate installation in a variety of wall constructions.
HINGE: Concealed pivoting rod hinge preventing distortion, with a heavy duty spring for positive closure.
EXTERIOR LATCH: Rechecked and operated using a ring attached to a sliding bolt.
INTERIOR LATCH: A release slide latch is included enabling door to be opened from the inside.
Other Special Order Latches: (CL) Cylinder Lock
| Part Numbers | BIM Links |
| --- | --- |
| F-88SS | |
| F-814SS | |
| F-1212SS | |
| F-1416SS | |
| F-1620SS | |
| F-2030SS | |
| F-2424SS | |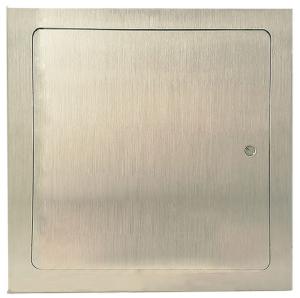 Click to Enlarge [+]