Prime-Pro™ Trap Primer Valve
The Prime-Pro™ is activated when sensing potable water flowing at an adjacent plumbing fixture. This trap priming device must be installed on the cold water line leading to the plumbing fixture; the valve then emits fresh cold potable water to a floor drain trap as long as the fixture is in use, providing an adequate trap seal.
The Prime-Pro™ trap primer is equipped with vacuum breaker ports and internal back-flow protection to prevent cross connection. The valve is factory pre-set and 100% function tested prior to being labeled and boxed.
The Prime-Pro™ trap priming valve is designed for 1 to 4 floor drain trap seal applications. The valve is activated at a minimum flow rate of 0.25 GPM at 20 PSIG. This product has been third party tested and meets the requirements of ASSE Standard 1018.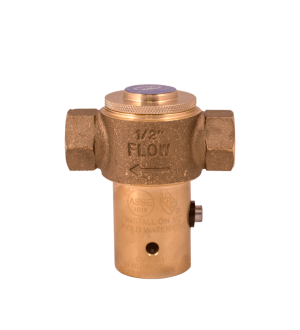 Click to Enlarge [+]