Mini-Angle Stop Arrestor
This innovative arrestor series combines an angle stop required for all residential plumbing fixtures with a built in water hammer arrestor. The unit is designed to control the damaging effects of pressure spikes caused by quick closing valves within a system.
The Mini-Angle Stop Arrestor is manufactured in a chrome plated finish that is optimal for an exposed location. The units label is a friction applied polymer that can be easily removed following installation for a clean, decorative look. They are furnished in either a 5/8" Compression or 1/2" NPT service alignment with a 3/8" Compression fitting to the fixture. Applications include water closets, dish washers, ice makers and lavatories.
Features:
LEAD FREE
Chrome Plated Finish
Optimal for Exposed Location
| Part Numbers | BIM Links |
| --- | --- |
| MM-500 ASCP | |
| MM-500 ASTH | |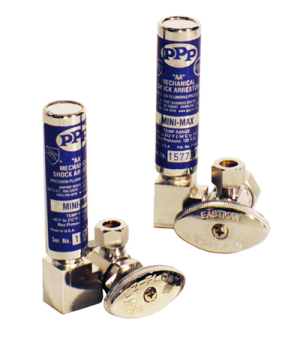 Click to Enlarge [+]