About Precision Plumbing Products
At Precision Plumbing Products, we're committed to providing the plumbing community with durable parts and exceptional service. We maintain a long tradition of growth through product expansion, customer loyalty and long-standing relationships.
You can count on PPP's experienced and educated team to deliver premium results. In Portland, OR, we control every step of the manufacturing process at our ISO 9001 and ISO 14001 certified facilities; from conception to design and delivery. This allows for the highest standards in quality management.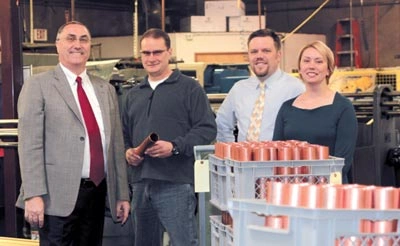 Controlling Quality During All Manufacturing Phases
Nothing competes with the durability and functionality of American manufacturing. PPP takes pride in our consistently high-quality, USA-made products.
All components are carefully inspected and scrutinized in-house to deliver the finest results:
Fully controlled environment during all phases of production
Close monitoring of employee and equipment performance
Precise engineering for product reliability
Rigorous quality standards
Ongoing improvements of production efficiency
100% of products are tested before shipment
With constant attention to detail, the consumer is getting the absolute best products on the market.
How We Deliver On-Time Reliability
One of PPP's main goals is to expedite solutions for customers. We're committed to getting the right product to the market on time with:
AUTOMATION: Increases production efficiency while adding to the quality
INNOVATIVE EQUIPMENT: Continued investment in newer and better technology
TIME MANAGEMENT: All phases in-house for effective planning and smoother operations
CONSISTENCY: Complete control and monitoring for flawless products
LOW EMPLOYEE TURNOVER: Higher levels of experience and productivity
ON GOING EDUCATION: Employees learn and adapt to the latest methods and techniques
The following is a link to a short video about our company.
Precision Plumbing Products: Company Video from jesperson productions on Vimeo.
Please feel free to download our company logos: